By accident. That's the short version. My husband and I didn't even know the term house hacking until quite recently. Let me tell you our story.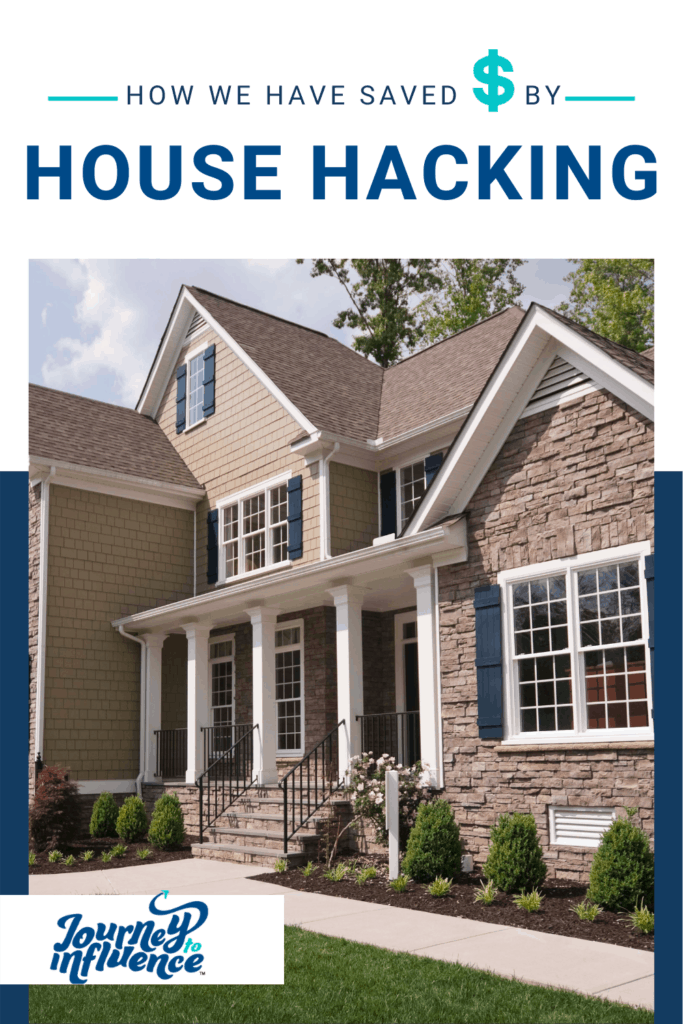 Use your best narrator voice here for the first bit.
The year was 2013.
The kids were little; the oldest was 3 and the youngest was 3 months.
The commute was long, very long.
We had relocated back to our first home (that had been rented out) in Hillsboro, OR after I took a job back in Portland, OR. The traffic was horrific. The drive was an hour each way, on a good day. The baby was crying. She went to a daycare onsite at work – which was convenient for lunch breaks but horrible for driving. After working a full day, intermittently up breastfeeding at night, and then dealing with a screaming infant my nerves were shot.
We already owned two houses, but went on the search for a third.
We searched for months to find the right house that needed a little fixing, in a nice neighborhood, good school district, significantly closer to work, and that we could afford (given we were already extended with two other mortgages.) More on that later.
We made offers that didn't go through.
We had accepted offers that fell apart.
And then…we found our home, 6 months after our original home tours had started.
A cosmetic fixer on a dead end street in our number one school district, with just a 30 minute commute.
It smelled like smoke, had green carpet and only 3 bedrooms versus our preferred 4.
We didn't care – because the icing on this green cake was that it had an ADU, Additional Dwelling Unit.
The detached garage had a 500 square foot apartment above it that was currently being rented and bringing in steady income. We were familiar with being landlords and thought it made complete sense to add this little gem to our list – even easier than the others as this one was next door, quite literally.
The house needed some work, but the priority was the apartment as soon as we got the keys. The prior tenant had moved out and we wanted to get it rented ASAP to help cover the cost of our mortgage…and daycare bills…and more. Fresh coat of paint and a good cleaning and it was up for rent again.
And that began our house hacking journey back in 2013.
We've slowly made upgrades to the apartment to make it as marketable as possible, attracting our ideal tennant – someone that is simply, a good neighbor and family friendly. BONUS: Many of those good neighbors become friends that we get to stay in touch with. Since 2013 we have had a total of 5 tennants in the apartment.
And when I say 'we' have made upgrades…I mean my husband. He's done all of the handy work and I take care of monthly payments, in between tennant cleanouts, and getting it re-rented when we have transitions.  We always have a number of people interested, and it gets rented within 72 hours typically.  There has been very little 'downtime' between tenants. 
Over the last few years it's gotten new updates; an A/C unit, total bathroom remodel, new countertops and new fixtures.
That sweet little apartment rents for $1,100 per month – and that cost includes basic utilities; garbage, water, sewer, and electricity.
Money Breakdown – 
Mortgage (including property taxes and homeowners insurance) $1,777
Utilities (garbage, water, sewer, and electricity) $300
Total $2,077
Subtract Rent $1,100
Our Balance = $977
We pay $977 per month for our 3 bedroom, 2.5 bath 2,000 square foot home on a little dead end street in our #1 school district now…a zero minute commute as we both work from home.
I ❤ house hacking.
We have waffled about moving away from this green house on the dead end straight, but we're both 100% sure that this properly won't be sold. IF we end up moving, we'd add the main house up for rent too. Making the property incredibly profitable, likely cash flowing $1,400 beyond it's mortgage and utility obligations.
Where would we move? Maybe someplace with a little more space, or acreage. But then again, we like to spend our weekends and summers up at camp where we get a bit more of that. Perhaps we'll just stay put and content, paying off this mortgage quickly and doing the ultimate house hack, completely mortgage free with positive cash flow.
Recently, I spent some time with Victor from @ourjourneywithless talking about house hacking his preferred way – through short term vacation rentals.
Check out this video to gain some extra insight and see if house hacking is right for you.
IG LIVE video with Victor from @ourjourneywithless
If you're not already familiar with our financial story, we weren't long term landlords for too long (outside of the apartment) we got rid of those two other properties shortly after we started our debt free journey to stress less about our finances.  You can read all about it here.
Thank you for joining me on my my journey to influence.

Sign up below to get the future savings tips and tricks!