Have you ever known a single mom getting out of debt? I have, and I must say, it's pretty darn inspiring!
Meet Nina. 
When Nina and I started working together I asked her about her dreams – what did she want?
Ultimately, to get out of debt and finally be in control of her money.  Provide for her family.
Ok, great.  But what else? What's the dream? Own a little house, have a couple of chickens, with a spot for a window seat-all on her own.
Nina set to work, by going to work.
Colleagues told her to 'get a man' to help her reach her goals.  But if you know Nina, you know that she is an independent woman that doesn't need a man to help her reach her goals.
Nina works two, full time roles.  3, 12 hour shifts for one company – and 3, 12 hour shifts for another. For a period of time she was picking up shifts on occasion too!
Fortunately, her determination and passion for reaching her goals was infectious.  I was in awe of her tenacity each time we spoke, as we worked through creating a budget that she could stick to, building in realistic goals and milestone celebrations while finding the balance between working hard toward her goals without over working.
Nina has paid off multiple credit cards, cash flowed minor emergencies and car repair, and then…paid off her car.  She's on target to pay off her last debt – her student loan in the Fall, cash flow a Hawaii vacation for the kids and herself, plus have a fully funded emergency fund by the end of 2021.  This single mom is getting out of debt and winning!
The grand total?  Just under $10k paid off in 6 months.
Yep, she is on fire!
Nina's list for 2022.
So, what's Nina planning to do next? How about a down payment for that little house with a window seat, and building herself a chicken coop.  Don't doubt her – if she says she's building a chicken coop…she'll build a chicken coop.
Nina has made as much progress on her financial journey as a married couple might.  She's working for two.  
How did she do it?
She had a dream bigger than herself.
She had the desire to make it happen.
She was willing to say 'not right now' to things.
She was ready to work really hard for a short time, as a means to an end.
Nina has learned a lot on her financial journey.
Along the way, she's learned how to be flexible when it comes to her budget.  Life happened, more than once. Instead of letting it derail her, she maneuvered her way through it.  
Nina paused to celebrate.  Whether it was a weekend to the coast, or cashing in on some paid time off to have some R&R.  Pause.  Celebrate.  Renew and start again.
She's taught her kids how to do life through this process – the skills of money management,  hard work, and determination are actively being watched on a daily basis.

Nina may start dating again in the future…she's in no rush (no time for that right now!) But when she does, she going at it with a whole new perspective.  She doesn't NEED a man, and when she decides that she'd like a partner, she'll be inquiring about his financial health as well.
A hopeful prospect asked her recently what type of car she preferred.
Her answer below.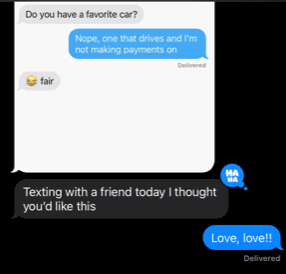 Talk about perspective shift.  Game changer.  Life altering knowledge in her hands, and the future of her family.
Working with clients like Nina are my favorite.  Motivated. Willing to learn and ready to take action.  When I surveyed her about her progress, this is what she said.
Nina is winning.  I'm Team Nina all the way.  I bet you are too.