My baby brother got married last weekend to his beautiful bride in an all-out country wedding complete with cowboy boots, a barn dance and red Solo cups. The festivities were held at my aunt and uncle's farm, making the ideal setting to kick off their wedded bliss. In their mid-twenties, and having dated for the last 7 years Aubrey had her big day planned out with every detail in mind and it was simply perfect.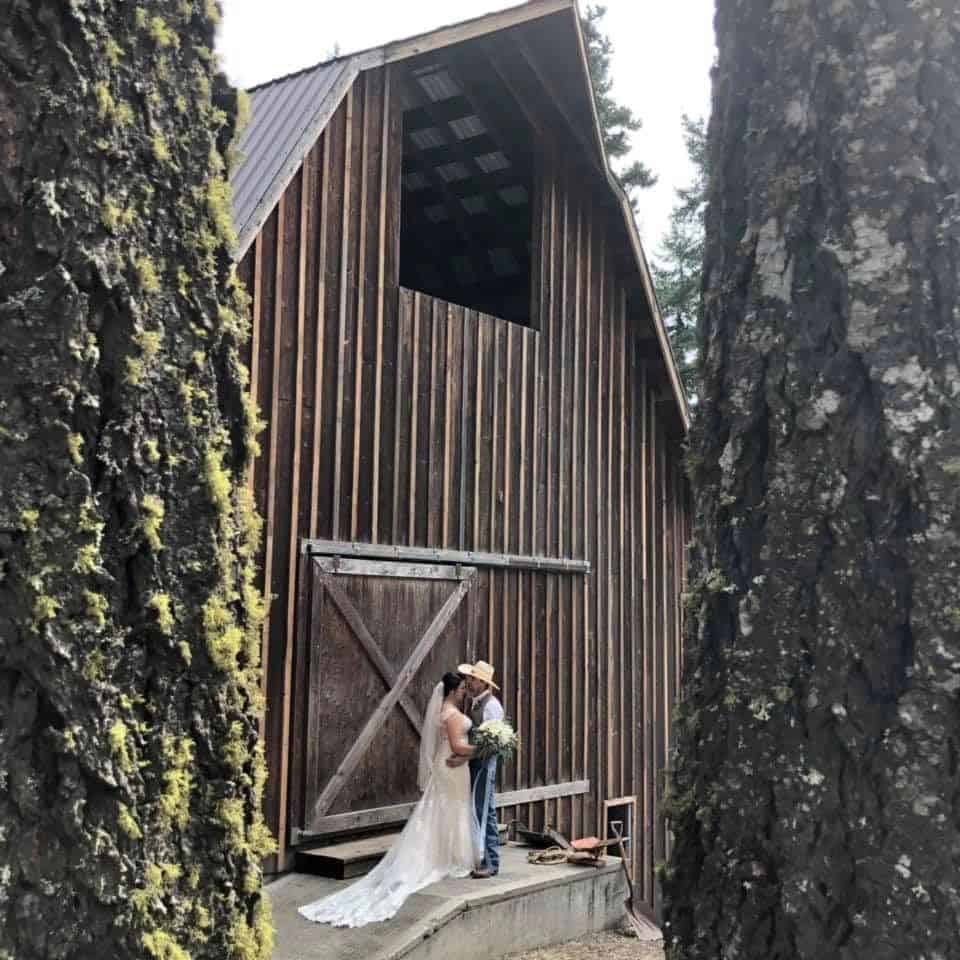 And that my friends, marks the end of an era; the last of my siblings to be married, the last of my cousins to be married. He was the runt of the family – a whopping 14 years younger than I am. That still remains my favorite nickname for him. Runt. Although he may now be able to beat me at arm wrestling. Maybe.
I had minimal wedding responsibilities outside of making sure our girls were ready to go. Harper was the flower girl, and tossed her petals with grace while cousin Zion looked on as if she was clearly crazy to be making a mess all over the ground during the wedding. Jordan had the elite role of walking behind the bride down the aisle carrying her gorgeous train. Part of our wedding present to the bride and groom was James' gift of filming and editing their wedding video. I manned camera number two to get the shot of my new sister-in-law walking down the aisle. Hope I didn't screw that up…
Post wedding ceremony we partied until the cows came home. Sort of. The cows don't really come home for another month or so, but you catch my drift. My sister made the cake and cupcakes,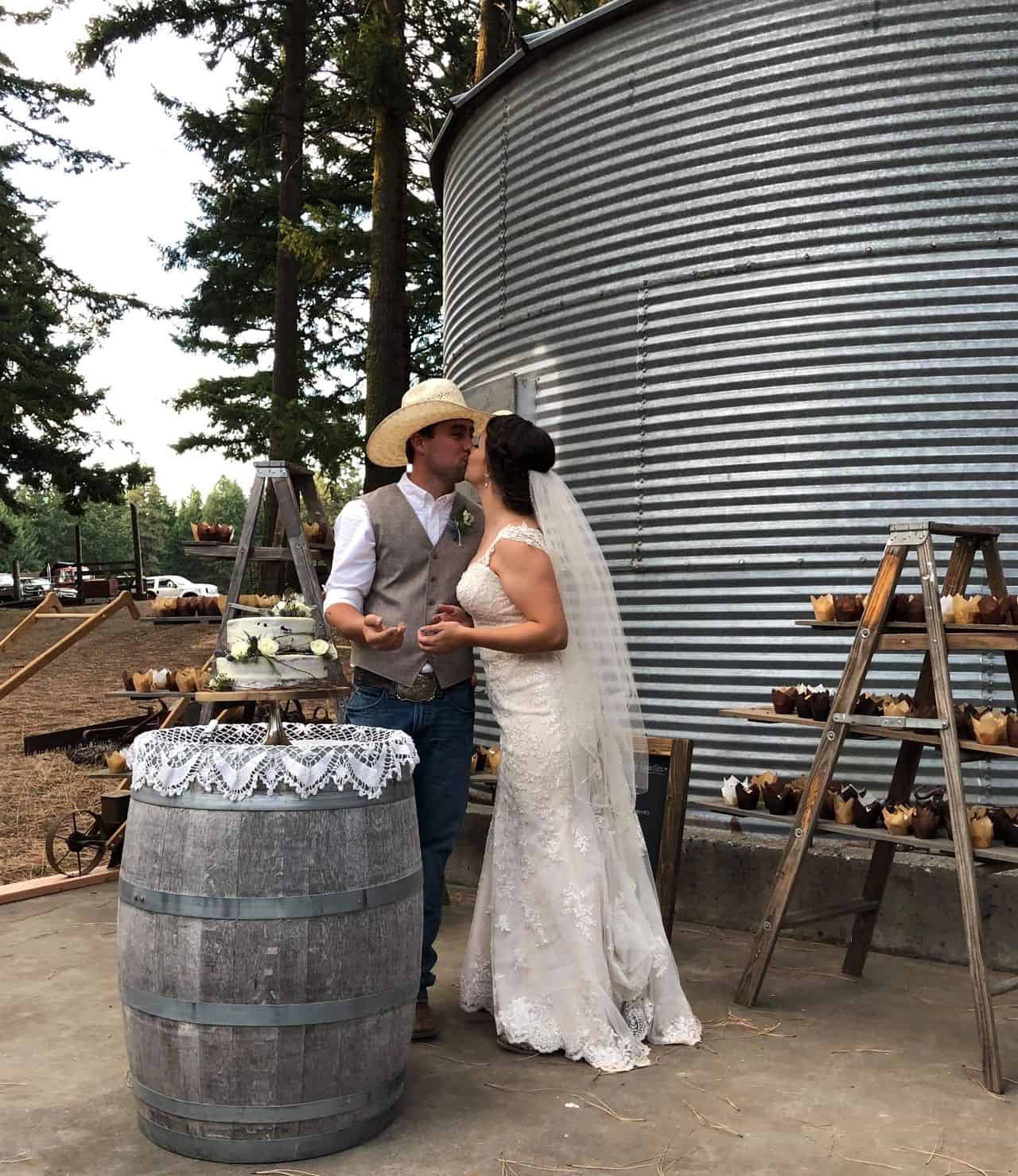 divine as usual…I found a piece of cake and a cupcake in my possession by the end of the night. And there was wine. One of my favorite local gorge wineries, Syncline provided the wine – and it was a welcome refreshment despite the lack of glassware. Pinot Noir is terrific even in a red Solo cup. Lucky for me and my post wedding day hangover I lost a few cups to straw in my wine. Hay in your wine will ruin it every time.
The DJ mixed up wedding reception classics along with country music favorites to allow all of us a few songs to dance along to in that big 'old barn. Aubrey's grandpa is a musician himself, and wrote and recorded this song to dance with Aubrey to for the traditional father/daughter dance – this time just skipping a generation. There were tears. My Momma danced with her boy for the mother/son dance. More tears! Once all of the traditional songs were over, I was able to dance the night away sometimes solo, other times with my nephews and my girls, Grammie of the groom, extended family and friends. The aforementioned husband was filming periodically and filling his own red Solo cup from a keg. There is bound to be a great highlight video in the works soon…
Sunday morning, we headed for home, and my plans of implementing Mom Mode to prep for the week fell by the wayside. I was weepy, nostalgic, and had a slight headache. The couch and Netflix won out over my typical Sunday responsibilities. I wasn't sad though. I was happy for Johnny and Aubrey! They'd be headed out on their honeymoon to Jamaica that night – same place James and I went on our honeymoon nearly 12 years ago. AND bonus, I have a new sister! Aubrey is part of the tribe so naturally; as if she's always been there. Can't wait to see what their future holds…but I hope that it includes a couple of nieces or nephews for ME to hold in the next few years.
My remote landed on romcoms and I found myself with a dish of chocolate chips and peanut butter. What was my problem!? It was then that I realized that the next weddings of familial significance would be my girls, and my nieces and nephews. %*&! Insert more tears. All of a sudden time was of the essence! I don't have that many more years with my little girls before they want to fly the coop. (I'm sticking with the farm analogy theme here.) Jordan is almost 10, what do I have, like 15 or so years until she walks down the aisle and then later dances that first dance with her new spouse and I cry my eyes out during that father/daughter dance. Which made me think…mothers of the bride are robbed! I want to dance with my daughters on their wedding day! I want in on that end of a chapter event. Then and there I made my girls promise that they'd dance with me on their wedding day. They agreed. Harper would like a soft and 'flowy' song and Jordan's current song selection is 'Who Let the Dogs Out'. Right now, I don't care the song selection – they promised. I'm writing it down and posting this on the world wide web – and will reference this site when the time comes. Can't argue with what is written on the internet after all…
My parents are now empty nesters. They have never had an empty nest. They moved from their childhood homes into a home together when they were married at the tender ages of 18 and 19, and I was born just a year later. They've had at least one kid at home for over 38 years. All of us kids were under one roof for nearly four years before I headed out on my own at 18. My youngest sister has been out of the house for years and my little brother has been operating as an only child for well over 10 years. Talk about end of an era. I thought I was weepy – please hold while I check on my parents….
They're doing okay, but I'm sure this childless home situation will take some time to get used to. My Mom is full of words of wisdom – this is more legacy building, she said. We don't get to keep our kids to ourselves, we love and nurture them into great human beings for the world to benefit from. Can't be selfish. Have to share. It's part of our legacy – loving them, and letting them go. I'm sure that I'll embrace the idea eventually, but in the meantime, I'm promising to make the most of our time together as a little family of four. Maybe with a grand adventure south of the border.
And I'm not letting them go without a dance with their Momma. Even if it is to a circa 2000 hip hop hit that includes men barking like dogs.