It takes a lot of years to 'get it together' doesn't it? I'm not sure that everyone even gets there… And I think it looks different in each decade of your life perhaps. I'll take a stab at what I think it may look like in each period, and what it DID look like for me in picture proof.
Childhood – learn how to ride a bike, cry at the right time to get what you need, and master multiplication.
Teens – learn how to drive a car, graduate high school, and get to the other side of young love breakups.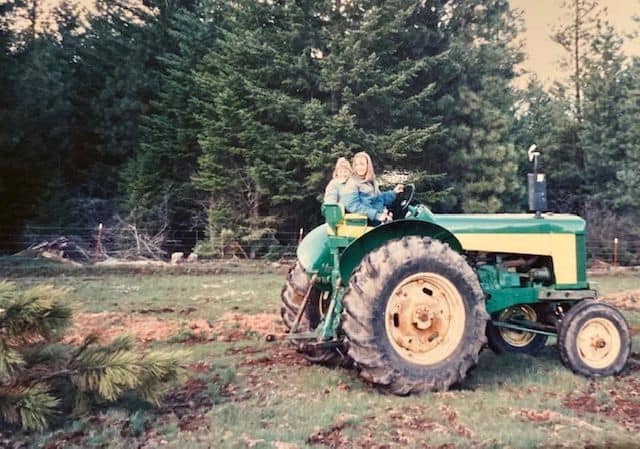 20's – learn how to drink responsibly without throwing up, choose a career field to keep you occupied for a decade or two, and own something without your parent's signature on it.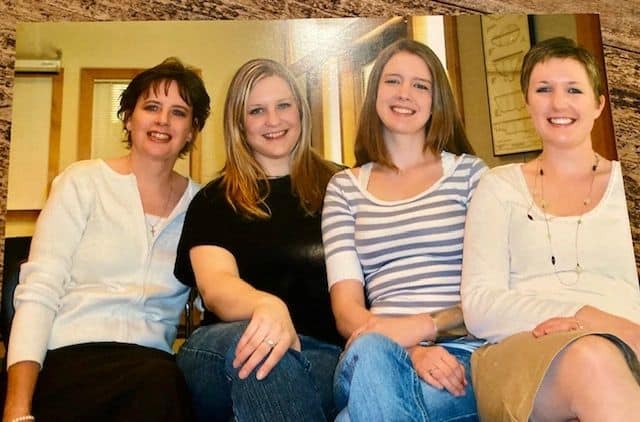 30's – learn how to calm a crying baby, do a proper lunge (elevator not escalator), work the remote on the Roku, and manage a team of people working both in suite and remotely – all at once. Just kidding. Sort of.
This next picture comes with a disclaimer – don't look ahead yet. My husband, such a sweetheart…ahem, took this picture of me on the left a lot more recently than I'd like to admit. I was recovering from surgery and really hell bent on getting the couch cushions cleaned out. And on the right, a picture he had taken just days before my surgery as I was getting ready to head out for an evening sweat sesh. He thinks the comparison is just pure irony. And, I kid you not has put that hot mess picture as his phone's screensaver. As mortified as I am of it… This is my real life – part hot mess, and part hot momma.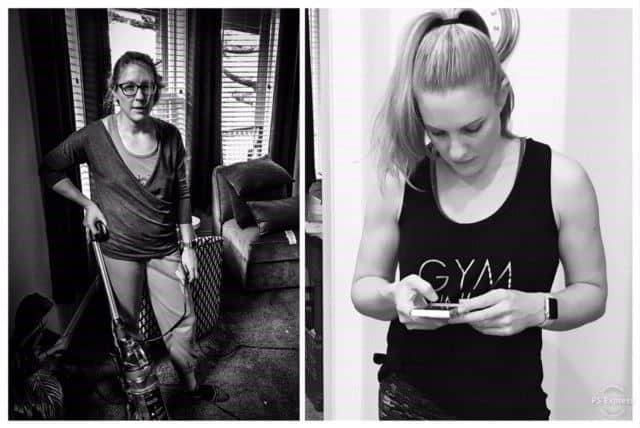 I don't know about you, but I certainly miss the innocence of childhood at times. I really was not fond of my teens, and I'm WAY cool with being out of my 20's – but the 30's! There is some tough $#% in this decade. We're balancing all the things; our marriage, the household, those adorable children we decided to bring into this world, our careers, and maybe even a bit of self-care too. I've thoroughly enjoyed this decade, but it has not been easy by any stretch of the imagination. I'm actually really looking forward to my 40's. I feel like I've finally gotten a few things figured out, and it should be a bit more chill. Friends in your 40's and beyond, please tell me this is true!
For those of you still sitting in your 20's or 30's, or even into a more respected decade feel free to borrow some of my favorite hacks that have made life a bit more breathable, most days.
Calendar Blocking – I'm sure you've heard of it; certainly not a new concept – but a KEY one in my personal and professional life. Blocking out time for nearly everything. I block my calendar for email/voicemail/check ins every morning at work, and 30 minutes to wrap up my day. I protect that time on my calendar. Sometimes it has to be moved away from the first thing in the day to accommodate a high priority meeting, or doubled up during a conference call that requires little of my attention – but it happens daily. At home, I block my calendar to write these blogs – even better I batch them and write blog posts for a month at a time. I calendar block for updating my budget every two weeks, getting groceries weekly, and deep cleaning an area of our home monthly. When 'most' things have a time and a place you can better organize or prioritize.
Self-Care – Big advocate for taking care of you! If you don't do it, nobody will. And there are people relying on you, in and outside of the house. Just do it. Read all about my journey with self-care here.
Calendar Adventures – One of the best things we've ever done, I swear. If you're thinking about what to get your kids for Christmas this year, stop. Read this post about how we turned our Christmas gifting around for the better. I promise you; you won't regret it.
Budget – Get one. Sometimes I like to call it a 'spending plan' instead. It gives our family freedom and flexibility to spend money the way we've planned, and save money for big ticket items – this coming year, the tiny house is at the top of the list! Keeping your financial fitness in check helps your overall health in check too; I'm a big believer.
Mom Mode – This Sunday afternoon festivity is blocked on the calendar too. It's a bit of meal prep and calendaring, and budgeting all rolled into a power packed few hours that set us up for success throughout the week. You can call it whatever you want, but I do recommend you sing while you're doing it, and maybe even shake your booty.
Time Savings – Find a little bit more of this precious non-renewable resource for yourself. Who couldn't use a few extra minutes, or even hours in their week! Stay tuned next week for a FREE tool that can help you get more time back in your life.
I'm quickly creeping up on the last year of my 30's soon. I'm going to embrace it and project myself forward into my 40's with purpose. Someone please confirm that it will be a bit less chaotic than these last few decades have been?
Thank you for joining me on my journey to influence.