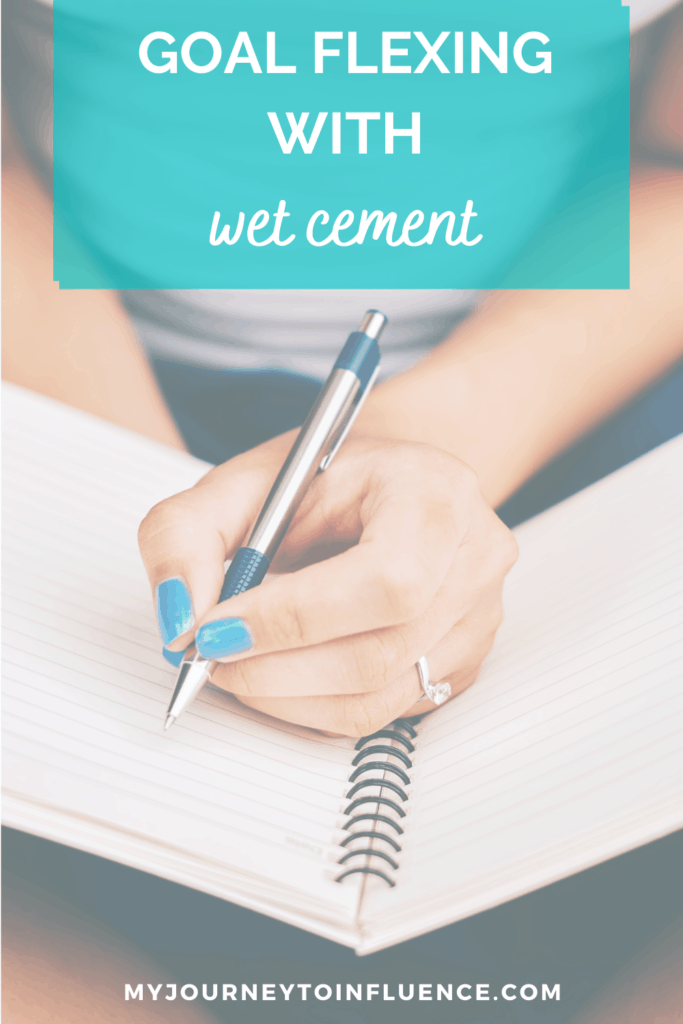 Tomorrow is my last day in my full time 9-5 role.
I can hardly believe it. Scratch that – I can totally believe it – but the whole reality of it hasn't set in yet. I'll be filling my days with different activities, client meetings, and having flexibility that I've never dreamed of experiencing. I've set some big goals for myself, and I believe in revisiting your goals often so you can stay accountable, and on track to achieving them. Yep, you could say I'm a little excited to be here!
Going to the grocery store mid-week? Bring it.
Taking an afternoon off to walk to the park with my kids. I'm there.
Working with clients at 10am on a Wednesday? Sign me up.
That isn't the kind of flexibility that I want to talk to you about today though, as I give you the update on my 2021 goals.
I want to talk to you about cement. Wet cement.
There really is a connection here – I need you to hang in there with me.
Creating wet cement.
Have you ever seen cement poured? Or maybe experienced putting your hands in wet cement before it sets to have your mark embedded forevermore?
In high school, I spent one summer picking up extra jobs saving for my first car. A couple of those odd jobs included helping out my Uncle David (who wasn't MY Uncle – but my cousin's Uncle) pouring concrete foundations and slabs. My role typically included moving rebar, helping to tie it, hauling around the 2x4s as requested, and helping to float the concrete.
Floating the concrete is this important and timely task that smooths out the wet cement, while leveling it out so that you have a balanced and even base to build your garage, or shop…or home. Because the concrete sets up quickly, you have to make these modifications while it's wet. Once it's dry, you're out of luck – there is no flex in a dried slab of concrete!
How wet cement and goals (planning and revisiting goals) come together.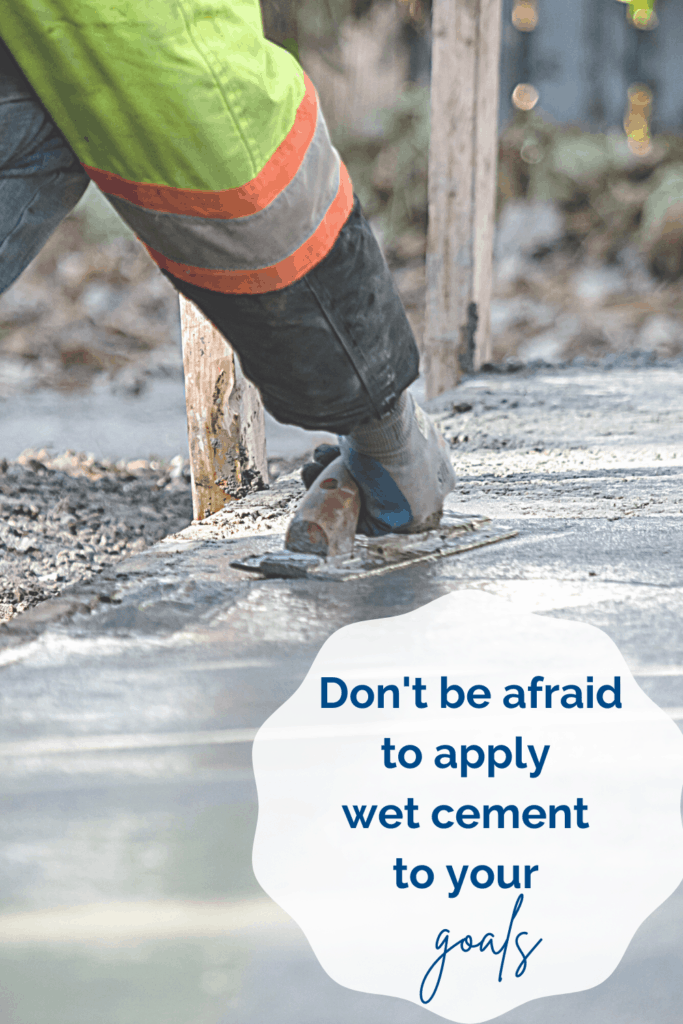 Wet cement is the key to working out the bumps and uneven parts of your slab.
It's also the term I like to operate with when discussing new goals, revisiting your goals, flexibility with budgets, and change in general.
Wet cement has an intended destination or plan, but it also can be molded, revised, and edited before you get to the final result.
Revisiting your goals – is it time?
Big goal you're chasing? Be sure to apply 'wet cement' to it. Give yourself permission to revise it a bit and edit (still within the parameters of your original goal) until you get to the final outcome.
Working on fine tuning your budget? Apply the 'wet cement' concept here as well. Maybe you went over your grocery budget, but you're under in clothing for the month – even it up and call it good. Take a look at what might need revised for next month. Or maybe you get hit with a big car repair that keeps you from putting XXX towards your goals… cash flow your repair (life happens), and pick right back up where you left off the next month.
Keep firm with your foundation, and revisiting your goals! Your big goal has your why and drive attached to it for a reason, but allow for flexibility when life happens, and know that revisions may need to take place.
If you're looking for some goal setting advice check out this blog post from late last year; there's wet cement there too!
My Starter 2021 Goals.
Financial: Live without Providence income; put 100% in savings.
That happened. The only snafu occurred when we had a higher than expected tax bill for 2020 in the Spring, but we also put extra into our retirement at that time, so still an overall positive for the finances. Our 100k savings goal is sitting at 90k right now.
Business: Double active clients from 10 to 20 by 7/1/21; increasing income.
This growth has been incredible; adding more clients to my schedule makes my heart full and seeing their progress set my heart on fire! This doubling effort came primarily with 1×1 clients, and continuation of past clients staying on for group coaching and accountability. I've also prepped for continued business client growth and added group coaching efforts for the latter part of the year.
Oh, and I am quitting. Mostly.
My last day in my 20 year career in healthcare leadership is tomorrow, 7/1/21. Cue the confetti!!
Adding in a small side note here to say that after a full two weeks off, I did offer to work part time through the end of the Summer to help with a big project transition taking place – just two days a week. So, not technically quitting yet – but transitioning for sure. This opportunity came up really last minute, and the thought of being able to help with a smooth transition for my team, along with retaining benefits for a few more months as I get used to full time entrepreneurship felt right. Wet cement, right? Revisiting your goals, in practice! Still sticking with my goal – but didn't look the way I thought it would originally.
Health: Drop 15 lbs by 4/1/21.
Totally didn't happen. No excuses – I simply did not prioritize it the way I needed to – and the business/work/family stuff won out these past 6 months. Insert wet cement, and yet another great example of revisiting goals! My health and wellness is moving to the top of the list for the next 6 months of the year.
My Ending 2021 Goals.
Health: Increase mental toughness and self discipline to achieve optimal health.
I'm going to complete the #75Hard Challenge by the end of the year. It is going to be TOUGH, but I need a hard reset and rebalance to curb my cravings, fuel my body, and train it to work harder for me. I'll be sure to highlight a bit on Instagram, so if you're not already following along – get over there!
Family: Limit evening work, and implement Fun Fridays.
Spending more time with my family was KEY in my career change, and now I get to implement it. When I asked my fam what they wanted my schedule to look like, they said more evenings and random park dates and walks. While the kids are out of school I plan on not doing any work on Fridays at all…I'm calling it Fun Fridays. Fro-yo, yes! Walk to the park, yes! Cleaning out the closet, yes! Grocery shopping at 10a, yes! Okay – not all of those activities are "fun", but they are much more fun when I have a day to do them, rather than shoving it into an evening or weekend activity.
Financial: Work toward paying off of our mortgage sooner rather than later.
We are in baby steps 4, 5, and 6, which means that we have a fully funded emergency fund of 3-6 months worth of expenses and no debt outside of our mortgage. We contribute 15% of our income toward retirement and a dedicated amount towards the kids' college savings (up to 10% is recommended – and we choose to do 5%). Anything we have remaining monthly will go towards our mortgage payoff. We will participate in regular vacationing and cash flow any big expenses along the way. My goal is to be mortgage free in less than 3 years.
Revisiting your goals, tweaking, and finishing your year strong.
How are YOUR goals shaping up for 2021? Do you need to stop and recalibrate? Perhaps you still are keeping your foundational goal, but need to apply some wet cement in how you go about finishing the year?
If you're thinking about revisiting your goals and need some extra support to do so, make sure to check out and download my free goal planner. It's never too late to apply a little more wet cement and get your foundation as strong as it should be.
Thank you for joining me on my my journey to influence.

Sign up below to get the future savings tips and tricks!