A little less conversation, a lot more action. Did Elvis say that? Sing that? I should probably fact check that – but I'm not going to. You know what I'm talking about.
What if instead we need a little MORE conversation to spark the action?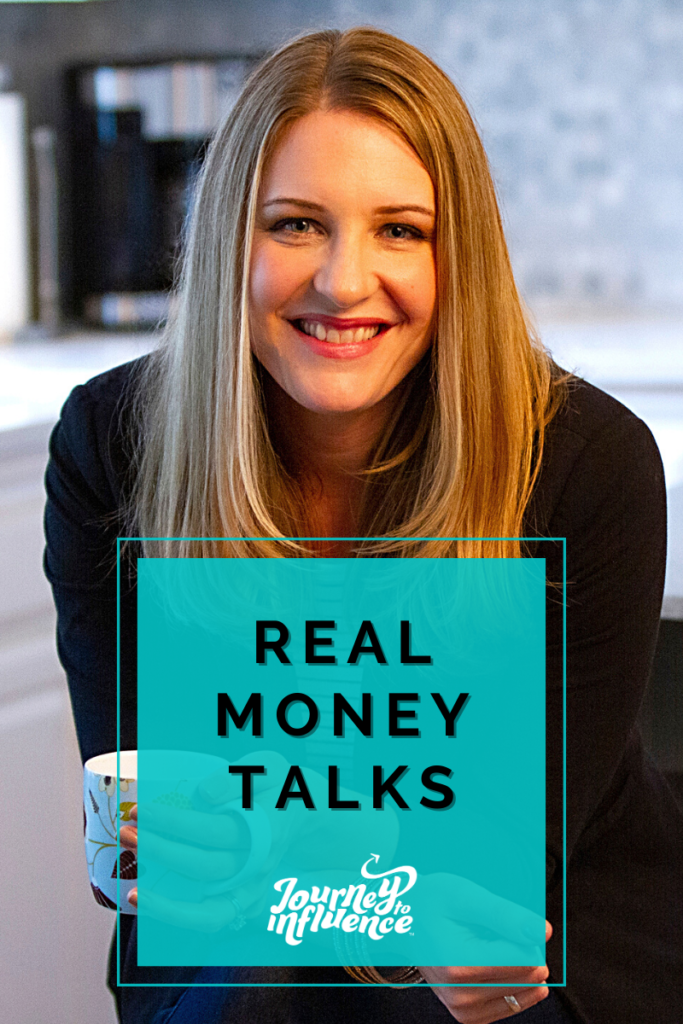 I'm on a mission to help people be more intentional with their money by making a plan, and providing encouraging accountability to chase big goals.
That could mean working with me in a coaching relationship, or not.
If I inspire someone to just start being more intentional with their choices, that's a win. Or maybe they start creating their own budget plan – perfect. Perhaps reading these bi-monthly blogs and following along on social media is enough to keep them accountable to their big goals. Wonderful.
My mission is bigger than my coaching business. It's a journey…to influence.
Part of that journey includes making talking about money normal. I'm still floored that it's 2021 and talking about money continues to be a taboo topic. Not in this house, not on this blog, and certainly not in my business or on this journey.
This year, I've set a goal for myself to contribute to 30 other podcasts, articles, or other guest opportunities for more money talks….to audiences that may not be there for money talk. BUT lucky for me, money intersects with so many aspects of life, making it relevant everywhere.
Here is a little sneak peak of those chats for the first four months of the year, 11/30 are complete, ⅓ of the way through the year. I'm on track to meet my goal! I shared about how I was setting my goals for this year here. Plus you can find a free copy of my goal planner if you're looking to set some goals yourself. Perhaps you'll want to watch or listen in to one as well – and maybe find a new friend in the process.
Unicorns Unite
This podcast that also doubled up as a YouTube episode was to talk about business budgets by way of the Profit First methodology. The host, Emily Reagan also introduced me to my virtual assistant who has helped this blog go from a Google doc to your screen. Thank you Erika!
The Heather Sager Show
Heather was my speaking and business coach when I first leaned into building a coaching business. Her course, Speak Up to Level Up gave me the tools and confidence to take on this 30 podcasts in a year goal…among other things. We got to chat about my experience in her program, and going from baby nugget of a business to the business I have today.
https://www.heathersager.com/blog/71
Intro to Info
Radio show that highlights musicians and has a thirst for a variety of information, yes please! This was a fun conversation that covered a variety of topics…from talking to kids about money to keeping spending in check. This was a live show, no link to share with you – just know that it was solid gold.
The Sisters Show
Talking with these sisters (how fun is that to have a show with your sisters!) about relationships and money. When do you talk about money in a dating relationship? How do you get on the same page?
Everyday Hero
The storyline for this podcast is about celebrating everyday heroes, and I got to highlight a client of mine that was and is inspiring, Nina. You may remember that name – she was also a recent client success story as well.
Disruptive Nutrition
Coach Carrie and I got to talk about the similarities between nutrition and finances and dive into the free space or margin that we create when we get our health and wellness in order within both of those categories. https://youtu.be/UWZEAsvS8Nc
Journey with Less
Victor and I went live on Instagram to talk about house hacking through his preferred way – Airbnb rentals, and mine through an AUD (Additional Dwelling Unit) with the apartment above the garage. https://www.instagram.com/tv/CMBOwP4lVCz/
Tinkering Toddler Crates
Guest blog post for Lisa and her audience of parents with toddlers; the post was about when to start saving for kids college funds.
FemNation
Ah, the entrepreneurial journey! Whitedove inquired about my story to becoming an entrepreneur and I got to share all the juicy details from the bloody marys at the airport to the napkin with a plan that has led me to coaching today. This episode has not yet aired, but you can watch for it here and catch up with some other great episodes. https://podcasts.apple.com/us/podcast/femnation-podcast/id1479220868
Ladies KAR Care
Auto maintenance plus personal finance maintenance – yes, it totally connects! As women, bringing awareness to things that we may not have been before is important and empowering. Host Cindy Calderon is a bundle of encouragement with life as well as car care with a special heart for women. Episode has not yet aired, but why not get some car advice while you're waiting?
The Organizer Chicks
Strategizing and steps to get organized with your finances, and make money talk normal with host Amber Taggard. The episode is not yet live, but stay for some other life and home organizing tips. I am!
Do you know of a great podcast or group that needs to hear more about money with tangible take aways to be more intentional?  I'd love to connect with them.  Send me an email to [email protected] Let's normalize the money conversation together. 
Thank you for joining me on my my journey to influence.

Sign up below to get the future savings tips and tricks!