What if you could find a great outfit, have a fun time with some gal pals on a shopping spree and save a significant amount off of retail…wait, while doing something better for the environment. That is some kind of quadruple win, right?!
Let me give you the recipe to do just that with a few of your girlfriends in the very near future. But first, let's talk about thrift stores, consignment and clothing in general.
Why should we care?
"The average consumer now buys 60% more pieces of clothing than 15 years ago and keeps each item for half as long." Waste360.com
Well, as a rule of thumb we're wasteful and a bit fickle. Trends change, sizes and tastes change and we're quick to rotate which makes an impact not only on our pocket book but the environment as well.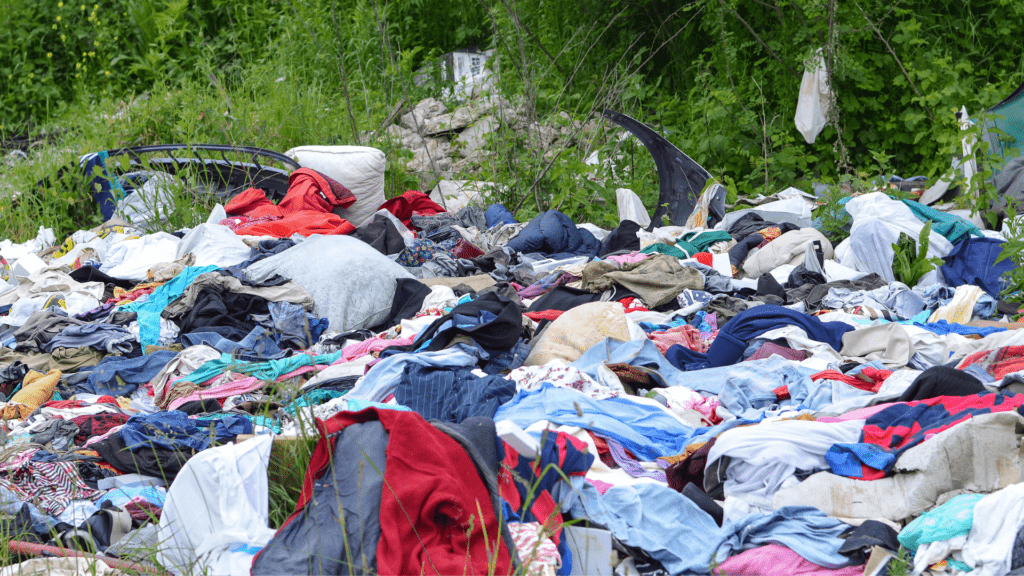 "The average US consumer throws away 81.5 pounds of clothing every year. At present, many items are worn only seven to ten times before being tossed, a decline of more than 35% in 15 years." Earth.org
How can we help?
Let's get creative with the way we shop! People recommend to buy used. Not for all the things, but making it a part of your 'normal' routine can make a big difference. So, what's the difference between these stores – let me tell you.
Chain Thrift Stores
These stores are big boxes, usually non-profits that you see commercials for and are in most cities. Think Goodwill, Salvation Army, etc. People donate used items as a tax deductible donation and those items are tagged and resold in stores.
Small Business Thrift Stores
Similar to the big boxes, these small mom and pop shops have a similar concept, not necessarily non-profit, but usually take donations and also procure items from other sources to resell in shops. Some can be quite niched to age groups or type of item; clothing, furniture, etc.
Consignment Stores
Again, with common themes to the small business owner thrift stores but here you have the opportunity to support multiple families with a single purchase. These items are typically gently used, sometimes just never worn and new with tags, and come in varieties of specialties. When an item is consigned the proceeds are split between the shop owner and the original owner – win/win. The items aren't donated like in the above example, but 'sold' instead once the shop finds a buyer. This is my personal favorite way to shop.
Online Consignment Stores
Marrying the consignment store with the chain thrift store is this mix. The seller is usually getting a much smaller payout, but the buyer has a lot to choose from. I think every single one of my swimsuits has been a big box online consignment store purchase for usually $10-$15.
Sustainable Sourcing
Maybe buying used isn't your jam, but sustainability and fair wage fashion is something you can get behind. I've purchased a few items from Sseko/Noonday and was pleased with their products and their mission. Here's what brand ambassador Liezel Harrison has to say when I asked this question.
"What does sustainable shopping look like to you?"
---
It starts by shopping in my own closet and really taking inventory of what I already have and what new outfits I can create. I sometimes even like to take time every once in a while to play "dress up" with items I already own. I make up outfit ideas for special occasions or put together things that I haven't ever worn together before in order to save time when I actually need to get ready quickly for something.
Seasonally I love to go to consignment shops, especially my fav local consignment shop, Shop Girl Consignment in Gresham, OR. I tend to take in a few items of my own each season that I myself consign, and then shop for a few things that match my current season of life (running wishlist of classic items that are missing from my current wardrobe or new sizes that I need to embrace).
When I do purchase something new, I make a point to buy it from a sustainable brand that I have researched and feel good about spending my dollars on. I need the company to be socially conscious and taking into account the dignity of workers that produce their items, the way they ship items, and the way that they impact the environment (animals included). I want my items to be made out of environmental friendly materials and made in a way that will last (so I don't have to replace it soon) and so that it will be a more timeless piece that won't just be a trend and be out of style after one season. I think about my cost per wear a lot more often now when I make clothing purchases.
I am forever your circular and socially conscious fashion bestie and would love to chat more at anytime!! I can be found on IG at @liezel_harrison, FB group at The Impact Fashionistas Community, email at [email protected] and ethical shopping at liezelharrison.noondaycollection.com
---
Stay tuned for my personal favorite consignment recommendations, but first let's get back to that recipe of the gals gone wild shopping spree with a few pics from a recent adventure.
Gals Gone Wild Shopping Spree
Gather up your group.
Anyone will do that you enjoy spending some time with; the more the merrier. Your sisters? Yes – I get to do this annually with my Mom, sisters and sister-in-law. A group of pals from your neighborhood, friends from work, or high school, or college…you get the idea. Grab a group!
The friends that I spend the most consistent time with are also ones that I do bible study with – fondly referred to as the BSG. Bible.Study.Group. The gals gone wild portion of this blog just got a smidge tamer, but I promise we know how to have a good time.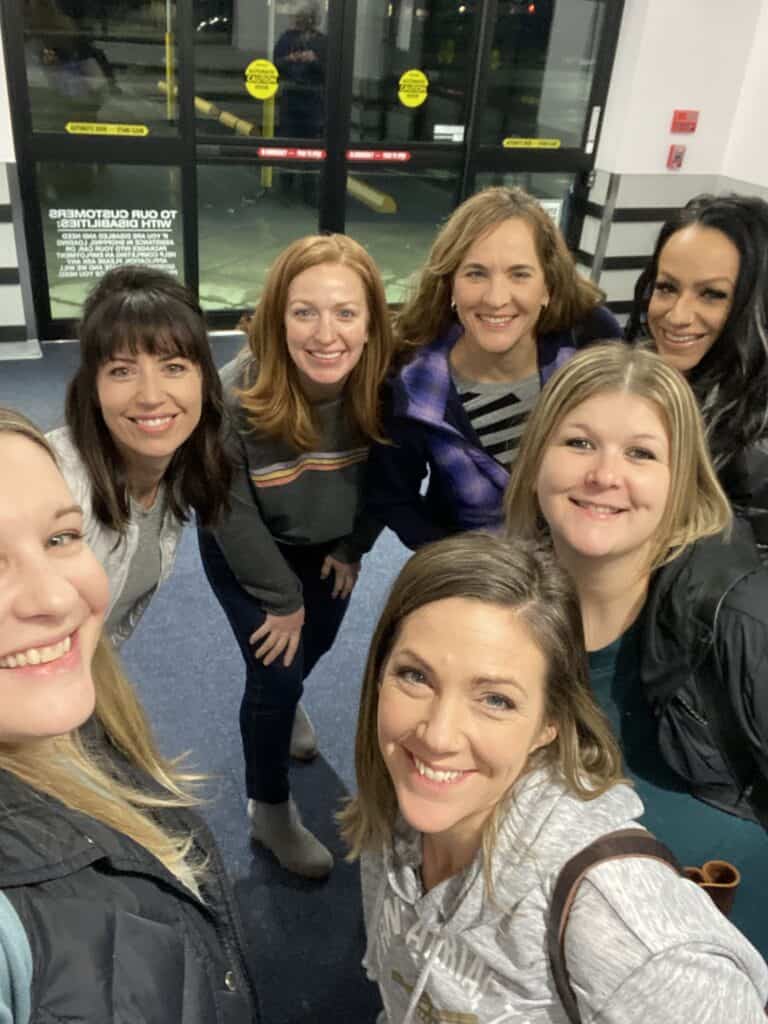 Find a local thrift store or consignment shop, pick a date and hit the stores.
Make it convenient to you, and make sure it has hours of operation that work for most schedules.
We all live in the same few mile radius and chose a spot close to us that was open after dinner and evening chaos was mostly complete, because as busy people just like you we needed to make it time efficient too!
Write down what you're shopping for, and your budget.
Certainly we could have done surprise shopping, but we actually wanted to walk out with something we needed. So we each wrote down something we were looking for; vacation outfit, date night attire, ski gear, etc. along with the budget we had.
Exchange shopping lists, and set a time limit.
Next up, we set a time limit (I think we did 20 minutes of shop time). We drew our lists out of a bag so that we could shop for someone else.
Try on items and pick your favorites. Laugh.
Then we shared our finds for each person, commenting and giving feedback for all of the treasures found. Unfortunately, the dressing rooms were closed when we visited. But we made the most out of the shoe aisle and likely saved ourselves some serious trying on time.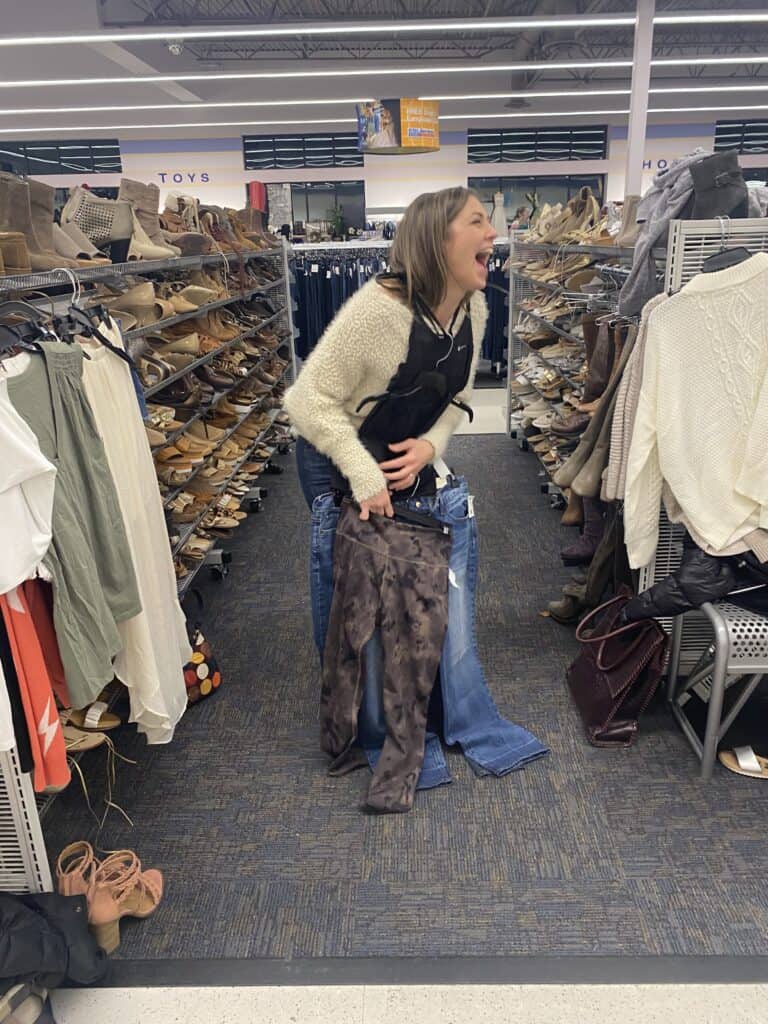 Grab a cocktail and cheers to your savings and sustainability.
We ended our evening with a drink. We caught up on the current happenings in our lives, with a 'job well done' for our new sustainable purchases at discount prices.
Will you try it? Grab some friends and try this fun activity out for yourself, for so many great reasons!
Local Recommendations
If you're in the Portland Metro, here are a few of my favorite consignment spots.
Shop Girl Consignment – Located in Gresham. They are soon opening another location in Sandy. You'll find Thea Enos' shop full of not only great finds, but great community. She's on a mission to help women feel their best in their own skin, offering 'shop for you' opportunities often. You can have a special experience…even virtually!
Refinery – Downtown in Oregon City. this small shop is a favorite stop of mine when I visit my hairdresser. AND they do a great job showcasing different outfits on their Instagram feed.
Thred Up – Want to check out my favorite 'big box' online consignment shop, Thred Up? They'll give both of us $10 off coupons when you try it.
Wrapping Up
Consider switching up your shopping a bit. Share your favorite consignment boutiques, ways to shop and sustainability efforts when it comes to our clothing to not only be easy on our budgets – but kinder to our environment too.
Thank you for joining me on my journey to influence.