Contradictory to popular belief, saving money does still allow fun. I've compiled a list of 20 ways to save on the fun stuff while ditching debt or building up savings. Hopefully you've been able to get your hands on the first round of saving tips; 25 Ways to Save – some were likely new for you.
Now, this post has an age-old category of savings…food, drink and entertainment – but hopefully a few outside-of-the-box ideas that you're willing to try all in the name of saving some cash.
Stay with me for the final part of this series by subscribing here.
Sign up below to get the future savings tips and tricks!
Ways to Save on Food, Drink & Entertainment
Eat at Home – You knew this was going to be on the list. Eating at home, and making your own meals is far less expensive than going out to a restaurant, or even through the drive thru.
Healthy Eating – Many people believe that eating healthy is more expensive, but that doesn't have to be the case. Eating whole foods, and increasing your veggie intake is often far less expensive than the processed stuff.
Split Meals – When you do find yourself out at a restaurant, consider splitting a meal with someone. Portion sizes are often plenty to split without getting overly full, or could be saved for a later meal, cutting your expense in half.
Meal Planning – Planning your meals in advance can save you a lot of cash at the grocery store. Starting by shopping your pantry for what you already have and making a list of what you need for the coming week's meals can keep you focused and on budget. Spend an afternoon prepping for those meals and you have zero excuses for sticking to the plan.
Bulk Shopping – Consider buying your non-perishables in bulk. Toilet paper, dry goods, cereal, etc. You can save some money by catching sales when you purchase items that you regularly use. Key phrase here – items that already are in rotation!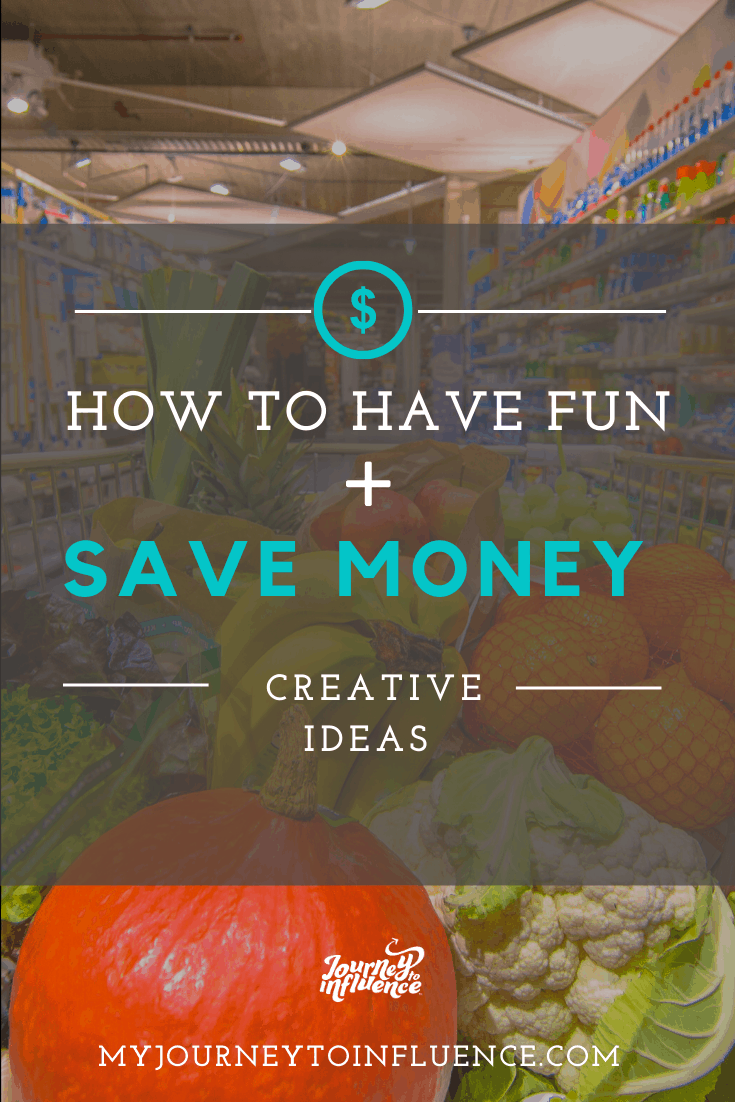 6. Leftovers – Eat your leftovers. Have a leftovers night, or maybe even two to ensure that food isn't going to waste, and you give the chef of the house the night off.
7. FFY – FFY is a weekly occurrence in our home, it stands for Fend for Yourself.  Maybe it's leftovers, or crackers and cheese – perhaps it's mac and cheese from a box – whatever you can make yourself.
8. Cereal Sunday – My Mom has a long standing tradition of cereal Sunday.  It's what's for dinner.  Grab a bowl and spoon, dinner is served.  Her version of our FFY is definitely a fun way to save money for my girls.
9. Carry Out – Carry out is often cheaper than delivery, and certainly less expensive than eating in…as you may get talked into a few more drinks or dessert.  You promised pizza for dinner?  Grab it to go and save yourself some cash.
Garden – I tried gardening once, and it didn't go well.  But I bet you can do better!  Growing your veggies and eating fresh produce – not only good for your pocket book, but also terrific for your bod!
BONUS: Maybe you have a lot of space or a lot of talent in the garden? Sell some of your produce to neighbors or friends. Feed the neighborhood!
Drinks – Consider pacing yourself when you're out with drinks. I like to pour myself a glass of wine as I'm getting ready for an evening out, and then just limit myself to one drink out. Or drink a glass of water between drinks…helps with how you'll feel tomorrow morning too.
Coffee at Home – Using a single use coffee maker, or even a pot of coffee will save you from the $4 budget buster at your local coffee shop.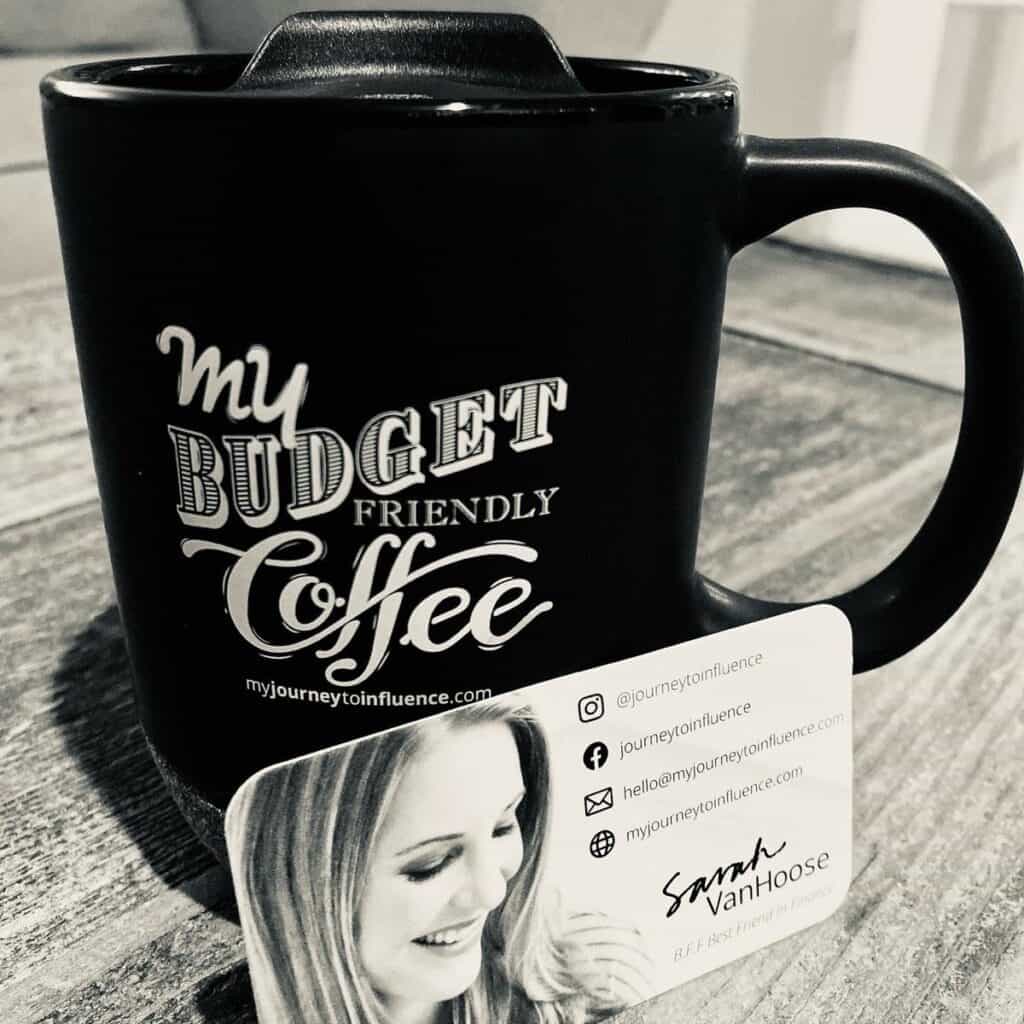 SIDE NOTE: I had the sweet little mugs made for my clients around the holidays, a small reminder of their goals and that budget friendly coffee at home is always in style.
SAVINGS CALCULATION: $4 x 5 days per week x 52 weeks per year = $1,040 in Savings
Liquor Store – Not a fan of beer and wine, but prefer a cocktail instead? Grab a bottle of your favorite liquor at the local liquor store and make your own cocktails. Invite your friends over for a night in, instead of a night out – complete with margaritas. Not only can you extend your stay and enjoy the company, but the savings is huge compared to a night on the town.
Pack your Lunch – It doesn't have to be in an Igloo cooler complete with Thermos or a brown paper bag, but packing your lunch does have plenty of cost benefits. Get creative, even beyond leftovers and sandwiches. Pinterest has some fun ideas for you to save, I started this list to get you inspired.
Date Nights – Yes, again with the cost! But, let me tell you how regular date nights can save you money: they're cheaper than divorce. Make going out with your partner a line item in your budget. It doesn't have to be expensive, but when you make it a priority and keep the lines of communication sans children open it can be a beautiful treat for your marriage.
Family Fun – Find ways to make time with your family fun, enjoyable, and save money. It doesn't have to be costly, but again prioritizing time with your family is a great way to keep focused on what's most important. Savings? We skip buying gifts for our kids in lieu of family fun instead, that we call Calendar Adventures. You can read more about how we save money on fun stuff and our Calendar Adventures here.
Hike. Bike – Find ways to be entertained without much cost.  Local hiking trails and biking paths are popping up everywhere.  Find some fresh air and adventure just around the corner, for free.
Picnic – Evening park picnics are a great low cost way to enjoy the outdoors and still have an experience.  Our family enjoys hitting up Subway and making an evening of it.
Library – Your local library has so many terrific resources for you.  Even beyond books!  DVDs, audio books, e-books and even cultural passes.  There are free tickets for your family to explore local cultural events in your city.
Kids Crafts – Give your kids a project.  Crafts, arts, and DIY projects are a great way to keep them entertained at a low cost. Heck, give them some markers and your most recent Amazon box and they'll be busy for hours.  You can find a lot of great crafts on Pinterest for your child's age group.  Skip the big fancy toys or electronics and let them use their hands to create.
What are some of your favorite and fun money saving tips when it comes to food, drinks and entertainment? I'd love to add them to the list!
Thank you for joining me on my my journey to influence.

Sign up below to get the future savings tips and tricks!