Between a hernia surgery in the Fall of 2019, quarantine/homeschool of 2020 and the craziness of working full time while building a business the beginning of 2021, I gained what I'm dubbing COVID-19 pounds.
TMI? Well, it's the truth. I also knew that I needed a hard reset for my health when I had a bit more breathing room.
Bring on the #75hard challenge for building mental toughness.
I heard about from a fellow speaker and business coach (my coach in fact) Heather Sager. I was initially mortified by the requirements of the challenge, but that turned into intrigue, which then culminated into a kickoff date shortly after I quit my full time day job to pursue coaching full time in July of this year.
Ok, so let me answer your burning questions.
How long did it last?
Did you finish it?
First off-it took F-O-R-E-V-E-R.
Just kidding. Mostly. I started it Wednesday, 7/7/21 and finished it 75 days later, 9/19/21.
Secondly-damn right I did! If you miss one item…you have to start ALL over again. I did NOT want to do that! I wanted to prove to myself that I could follow through on this commitment. Don't get me wrong, following through on my commitments is not hard for me – when they are for someone else, or in support of another. But when it comes to doing something for myself, I can come up with a number of reasons why it might not be the right time, the situation is too unique, etc.-you get the idea.
I showed up for myself wholly. I committed to each task and dug in to see it through. No regrets!
What is the #75hard challenge, and how it relates to building mental toughness
5 simple tasks. Simple, but not easy-especially when you toss them all together amongst real life and jumble them together to be completed daily.
Two 45-minute workouts each day (one must be outdoors).
I am one of those people that genuinely does enjoy working out…once I get started.  Getting to the gym, or even out the door is the first hurdle.  My local studio (shout out to my friends at Aspire Total Fitness in Happy Valley, OR) provides stellar workouts that push me, and they offer a variety of classes and times. I just had to show up and do the work.
One workout per day was not necessarily a challenge, but getting in a second one was tough. I opted to walk outside for my second workout – less wear and tear on the old feet/knees, and something I knew that I could sustain.  My favorite part?  My hubby joined me every evening that he was in town.  ❤️
Follow a diet (whatever variety you choose, but no 'cheat meals' or alcohol.)
This was a struggle.  I knew it would likely be the toughest part of the challenge for me.  Tracking calories, or macronutrients isn't new for me – and that was easy enough to get back into, but no cheat meals or vino?  No spiked seltzer at the lake?  The cravings subsided in the first week, and I grew quite fond of melon as a sweet treat.  
Watching my family eat the pan pizza while I had a cauliflower crust number – painful. Politely, saying "none for me, thanks" as desserts were passed around was a true test of my ability to commit to myself, and this challenge.
Explaining why I wasn't drinking and going over the challenge requirements was sometimes on repeat at a social gathering. See, I didn't let life stop just because I was doing this challenge – if we had plans, I still went and fit my diet options (thank goodness for great salads) into the plan. Admittedly, it would have been easier to hole up at home with my tuna, guac and chicken breasts – but that's not reality.
Drink 1 gallon of water daily.
This was easier than I anticipated. The key was starting early, and often. I carried around a half gallon container for a while, but ultimately just switched to a 20 oz water cup that I filled up 6.5 times. It left little room for drinking anything else really…except coffee. I made room for that!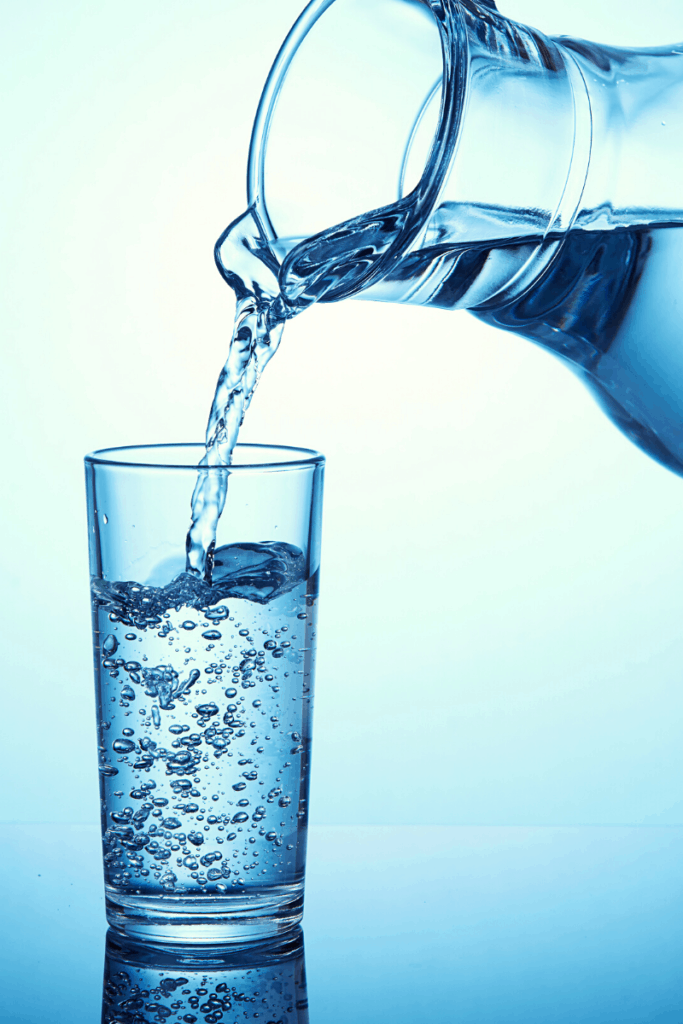 Read 10 pages of non-fiction.
Again, this aspect of the challenge was not especially difficult – I do enjoy reading. But there were days that fitting it in only arrived at the end of the day right when I wanted my head to hit the pillow, but instead I prioritized 15 minutes of filling my head with new learning. I ended up reading a number of books over that 75 day period!
Take a progress picture.
I'm not big on the before and after pics. Don't get me wrong, I possess a bit of vanity just like the next girl, but I truly wanted to focus on my health and how I felt…more than how I looked. I wanted my pants to fit better too (honestly, just wanted them to fit). These were not pretty pics, but I did complete them. They were pretty random and in all arrays of hot hair mess and various levels of dress.
So, will I continue on with this challenge?
Yes. Sort of. I will not be as rigid, but the elements of the last 75 days are good ones – there have been new habits formed that are positive for my overall health and wellness.
I plan to keep 5 workouts a week, and evening walks with the hubs regularly.
I'll bring back a cheat meal and some alcohol, with discretion.  I am not interested in a cheat day – I know myself well enough to know that I'd go too deep.  But dessert on occasion..yes please!  Nachos from my favorite pub – sign me up.  And I have wine to bring back to my lips, with moderation.  I plan to keep counting calories and get back to a goal weight that I'm still 10 pounds from.
I'm embracing the water and aiming for 1 gallon a day!
I enjoy reading and will certainly continue – but won't tie myself to 10 pages of non-fiction daily. It's more enjoyable when it's not a task!
I won't be taking a daily progress pic. Yes, there will be a selfie occasionally, but no daily pic.
How did this challenge show me the importance of building mental toughness?
Proving to myself that I COULD do this was a big deal. It was hard – as intended. There were days that the weather was 90' at night and I was on a hike. For days on end my daughter was baking up a summer storm with all of my favorite treats, and I didn't put a single bite in my mouth. A few days my turnaround between my final evening task of reading was wrapping up after 11p and my alarm went off at 5a to get myself to the gym at 5:30.
Mentally I exercised planning, strategy and perseverance more for myself than ever before. Grit and dedication were pulling me forward on days that my willpower was waning.
Do I recommend this challenge to you?
Not necessarily.  If you feel due a challenge and reset and can handle the idea of re-starting if needed – go for it.  But this challenge is not necessarily for you if you're trying to reach your health goals, without building mental toughness.  For me, it was a nice package of both to jump start my wellness back on track.
Ahem-so how do you correlate this building mental toughness with finances?!
Friends, finances touch SO many aspects of our lives. Let's talk about building mental toughness when it comes to our money.
It takes mental toughness and willpower to focus on your future over your present.  The present you (and me) wants to eat chocolate chips with peanut butter each night, or buy a well marketed Amazon Deal of the Day, regularly.  The version of ourselves that is exercising willpower and mental toughness muscle will grab for the watermelon over the PB combo and resist the urge to buy now in the Amazon cart – remembering that we have goals that are bigger than this moment.
When money management gets boring (and it will if you're doing it right), you're going to want to be lazy with it.  Skip the gym several times in a row, or skip checking your bank account and reconciling your budget.
When you're committed to showing up for yourself whether it's at the gym or with a weekly budget check-in, you'll be fighting the complacency and monotony and prioritizing what's important to you.
Simply getting it done, and transferring your % into retirement before you move on to vacation funding and leggings shopping is akin to getting your water intake in before moving on to the tasty stuff.  Doing what's good for you, is not often glamorous – but worth it!
Little tasks, like taking a progress picture – these are there to remind us that the little stuff does matter. Admittedly, Day 1 and Day 75 look very different for me. I'm glad that I have those two pics….but the practice of doing one small task daily – matters. It's speaking out loud about money topics to your family, staying on budget when you're at the grocery store, and writing down your goal.
How can you start building mental toughness when it comes to your money management?
Thank you for joining me on my my journey to influence.

Sign up below to get the future savings tips and tricks!